CW-hire manual
Module search
The search module is a stand-alone version of the search bar that's integrated in the CW-hire component. Besides the usual Joomla options, it only has one setting:
Options
In the tab "
Options
" you need to select the menu entry of the job-listings page where the search results should be shown.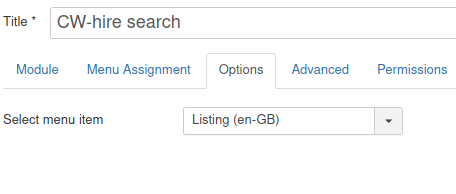 Select menu item
Select a menu entry where you have published your job-offers. If you don't select this, the search results will be shown on the home page.