CW-imenu setup
Open Extensions->Modules from the Admin menu and add a new module of type "cw-imenu".



Administration
in the first tab you have to choose, what to load with each module: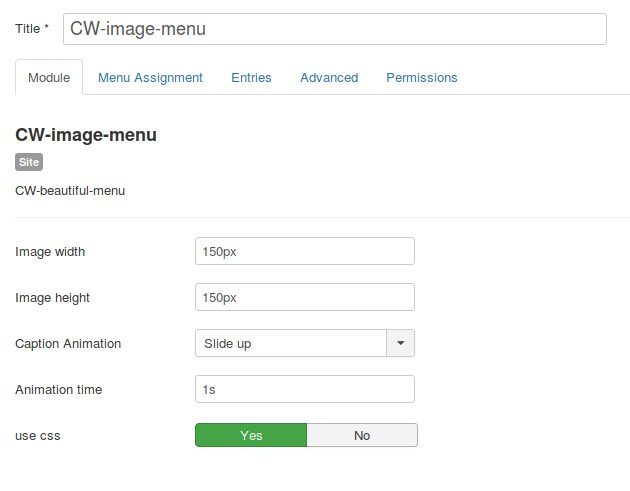 Image with
Sets the width of each entry.


Image height
Sets the maximum height of each entry.


Caption animation
Set the animation type for the captions. Select from either "Slide up" or "fade".


Animation
Set the duration of all animations.


Use css
Load the style sheets that come with the module. If you disable this, you have to create your own styles in your template.
Entries
In this tab, you add the actual menu entries.

Image
The main image of the item.


Hover image
The image to be shown on mouse over. This is optional.


Caption
The name/caption for the entry.


Link type
Select if you want to link to an existing Joomla menu entry or any internal or external url.


Select a menu item / Link
Depending on the selected link type here you can select either an existing Joomla menu entry or enter an url.


Link target
Select if the link should be opened in the same window or a new window/tab.